New BOM's at Sew Sweet Quilt Shop
Good afternoon,

Are you looking for a new project - Sew Sweet has 3 new Block of the Month's to choose from.
Sign-up is now underway.

1st Saturday BOM - During the 16 month program you will be making sixteen 12" blocks, that are sister blocks. That means 2 blocks of each pattern, but the colors on the other block are inverted. Solid fabrics will be used in a southwest colorway. Finished quilt measures 73" x 73" in layout shown. Several of the blocks are on display at the shop. Book is required - $20. The 1st month's block kit is $6. Bring in your finished block the next month and receive your next block kit for $3.




Arcadia Avenue - Join us month to month as we go on a modern paper-piecing adventure. Each of the twelve blocks has its very own personality and flair. Colors of the rainbow will keep you excited each month for a fabulous end result. Finished quilt measures 72" x 90". We will have a hands on class the 1st month to get you started and demonstrate how to paper piece. You will be making 1 block each month. Book is required - $24. Cost for each month's kit is $15.00 and includes fabric for sashing and binding.




Mystical Prism - Join us for this 12 month BOM making this striking quilt designed by Wing and A Prayer.

The complex looking quilt is made simple with easy piecing broken down into monthly steps. Rich colors of blues and purples make this quilt sparkle. The finished size is 102" x 102".

Pattern is required - $24. Cost for each month's kit is $20 and includes fabric for borders and binding.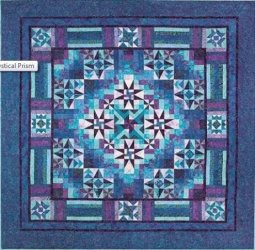 Call Sew Sweet Quilt Shop to sign up now or for more information at 217-602-0286.



Sew Sweet Quilt Shop
1205 W Walnut St
Jacksonville IL 62650
sewsweetqs@hotmail.com